The iPad can give you up to 128GB of storage, but if you have 1TB worth of media and files, that's a drop in the bucket. While you can consolidate all your stuff, including your entire iTunes library, on a spacious external hard drive -- and reconfigure iTunes to sync your iPad from that location -- you can only enjoy what you can fit on the tablet. However, you access your PC's external drive directly from the iPad by utilizing an iOS file management app, and get access to all of your stored content.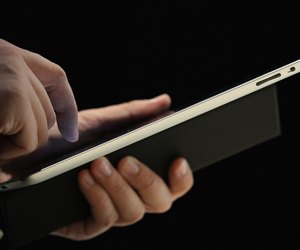 credit: Justin Sullivan/Getty Images News/Getty Images
Step
Connect an external hard drive to your PC, and then right-click the Windows logo in the lower-left corner and choose "File Explorer" from the context menu.
Step
Right-click the hard drive, listed under This PC, on Explorer's left sidebar, and then choose "Properties," followed by "Sharing" and "Advanced Sharing." Check the "Share This Folder" check box. By default, this gives all of the PC's users read-only access to the hard drive's contents; if necessary, click "Permissions" to change these privileges.
Step
Right-click the Windows logo again and choose "Control Panel." Click "Network and Sharing Center," followed by "Change Advanced Sharing Settings." In the "Guest or Public" section, enable "Turn On Network Discovery" and "Turn On File and Printer Sharing." In the All Networks section, activate "Turn On Password-Protected Sharing," and then click "Save Changes."
Step
Tap "Settings" on your iPad, followed by "Wi-Fi." Make sure that the Wi-Fi switch is in the "On" position. Under "Choose a Network," select the Wi-Fi network that your computer is using.
Step
Download and install the free FileExplorer app from the App Store (link in Resources). Tap the app to launch it.
Step
Touch "+," followed by "Windows." Wait a few seconds for your computer's name to display on the screen, under Network Neighborhood.
Step
Tap your computer's name, choose "Registered User" as a connection preference, type your PC login credentials, and then tap "OK."
Step
Touch your hard drive's name in the next screen. Use the bottom icons to search, navigate, sort, create new folders or transfer files from the drive. Tap any file to view or play it within the app. Use the arrow icon on the upper right to open the file in another app, or delete, print or email it.