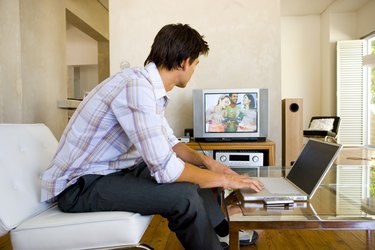 Connect your PC or laptop to your satellite box with the addition of a simple TV tuner. TV tuners come in both internal and external models, but the external are easier to use and install – you don't have to have special tools or open your computer case. Many TV tuners come with their own TV-viewing software, which may have digital and cable TV capability. Additionally, Windows Vista and Windows 7 both have Windows Media Center, which can access digital signals from your satellite box.
Step 1
Attach the TV tuner to a free USB port. Insert the installation CD that came with your TV tuner and follow the prompts for installation. If your tuner does not come with a CD, allow Windows to automatically detect and install the drivers.
Step 2
Connect one end of a coaxial cable to the jack on the TV tuner. Connect the other end to the video out on your satellite box or directly to the wall jack.
Step 3
Launch Windows Media Center, or the software that came with your TV tuner. Follow the on-screen prompts to detect a TV signal and set up your provider.
Step 4
Allow the software to scan for available channels. If the software fails to find any signals, try changing your connection. If you are on the wall jack, switch to the satellite box, or vice versa.
Step 5
Download the electronic program guide for your provider. Windows Media Center will prompt you. For other programs, you may need to manually initiate the process.
Things You'll Need
External TV tuner

TV viewing software
Warning
Some satellite channels may broadcast in HD. These channels may not work unless your TV tuner is HD capable.