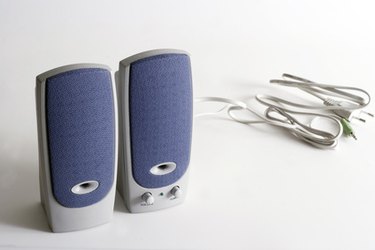 Laptop computers are typically equipped with a pair of small, built-in stereo speakers that produce a modest sound. The headphone jack on the edge of most laptops can also be used to connect a pair of external speakers to pump up the volume and provide greater audio fidelity when listening to music, enjoying multimedia content or gaming. The speakers must be self-powered because the amplifier in the laptop is only powerful enough to drive the small built-in speakers. A pair of desktop computer speakers connects in less than five minutes.
Step 1
Set up the speaker labeled L (on the back panel) on the left side of the laptop. The R speaker goes on the right side.
Step 2
Hook up the plug on the end of the left speaker cable, which is usually permanently attached, to the mini-jack on the connection panel at the rear of the right speaker.
Step 3
Plug in the cable from the right speaker to the laptop's headphone jack, typically along the left edge of the keyboard.
Step 4
Insert the power plug on the end of the transformer cable into the DC jack at the back of the right speaker and plug the other end into a wall outlet.
Step 5
Turn on the speakers either by pressing a "Power" button on one of the units or turning the On/Off/Volume knob clockwise to switch on the pair.