Your computer's F-drive is not a physical drive on your computer, but refers to a removable storage device that is connected to your computer via USB port. This drive can be anything from a USB flash drive to a portable hard drive. Connecting the computer to the drive is a very simple process and requires no technical knowledge.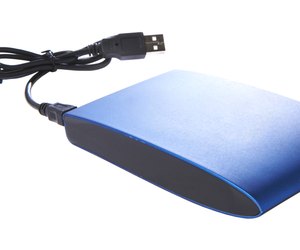 credit: Thomas Northcut/Photodisc/Getty Images
Step
Connect the portable storage device to the computer. If you are using a flash drive, you can plug it directly in to the USB port on your computer. If it is something else, use the bundled USB cord that came with the device to connect it to the USB port.
Step
Download drivers. If the device is a Microsoft "plug and play" device, the drivers will download automatically. if not, there should be a CD that is bundled with the device that has the necessary drivers on it.
Step
Navigate to the "My Computer" section of your computer, and look for "F" under the removable storage area of the window. The name of the device should appear alongside the drive name. Double-click it, and you will be connected to the drive.