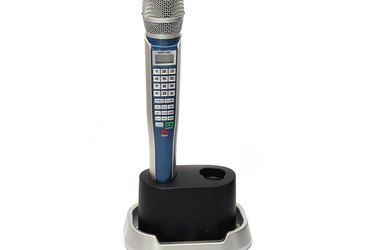 Magic Sing is a home karaoke machine that can be attached directly to your computer for a karaoke experience that the whole family can enjoy. Attaching Magic Sing is a fairly simple process that only requires two things--the included USB cable and the included driver disk. The installation procedure is fairly short, taking no longer than 10 to 15 minutes of your time.
Step 1
Plug Magic Sing into your computer by attaching one end of the USB cable to Magic Sing and the other end of the cable to an open USB port on your computer. Your machine should immediately display a pop-up stating that a new device has been detected and ask if you would like to install drivers for the device. The driver is a piece of software that tells the computer how to use the hardware.
Step 2
Click on the option to install drivers and insert the driver CD into the computer. When asked by the computer as to the location of the drivers, select your CD drive (typically the "D" drive), then press "OK." The computer will automatically scan the CD for the appropriate driver and will install it to your machine.
Step 3
Reboot your computer to complete the connection process. This will load the driver into the system memory, enabling you to use Magic Sing from your PC.
Tip
Download the driver from the website (linked to under Resources below), if you have lost your original driver CD.