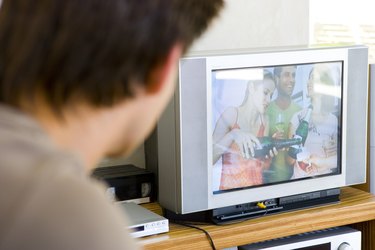 Now that broadcast TV has converted entirely to digital transmission, you may have lingering questions about how to tune in your favorite PBS (Public Television) stations. Most cable subscribers experienced little or no change to their normal viewing during the digital switch, but many loyal PBS viewers do not have cable. Here are a few steps you PBS fans can take to regain your beloved PBS programming.
How to connect to PBS TV stations without cable
Step 1
Attach the digital converter box to the antenna port at the rear of your TV.
Step 2
Attach your UHF/VHF antenna to the rear of the digital converter box.
Step 3
Turn the TV on and set it to receive channel 3
Step 4
Turn on the digital converter box and follow the instructions to preset all available stations (this could take several minutes). Once complete, you should be able to use the converter box remote control to locate your local PBS station.
Tip
Locate the lowest-number PBS station and adjust the UHF/VHF antenna for the best possible reception. Then run the channel preset function again. In many areas PBS will broadcast several stations and you should be able to receive them better by positioning the antenna properly.