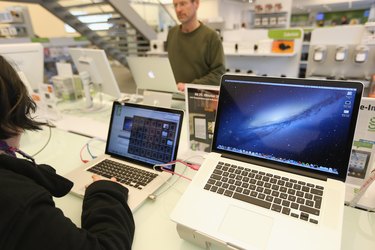 Having two monitors connected to your computer gives you expanded options for more productive desktop computing. For example, a web developer can have programming code on one screen and an Internet browser in another to test that code. This can create a smoother "work flow" that reduces the time it takes to complete tasks and reduce errors. There are several ways to connect multiple monitors to your PC. The items mentioned below address multiple connection solutions.
Step 1
Check your connections. Ideally, your video card has two DVI ports. If it has only one port, you will not get two separate displays. You can install a "splitter" on the signal cable, but this will only show the same image on both monitors. If you have one DVI port and one VGA port on the back of your computer, you can obtain a small adapter that will convert the VGA port to DVI. A monitor connected to the VGA port will not have a digital signal, but this should not have a substantial effect on image quality. If you only have a DVI cable and a VGA cable, you can buy an adapter that will convert a DVI port to a VGA port.
Step 2
Verify that you have the proper cables. Make sure you are not using a DVI-A cable, which is an analog cable that may not be compatible with the DVI port on the back of your monitor. DVI-D and DVI-I are fine. And lastly, if your monitor has a resolution larger than 1920 x 1200 pixels , that monitor will need a "dual-link" DVI cable, sometimes known as DVI-DL. The page linked below in the References section contains diagrams for identifying the different varieties of DVI cables. If you are connecting a laptop to an external monitor, it may have a "mini DVI" port that needs an adapter to connect to a DVI cable.
Step 3
Connect your monitors. The best way to do this is to have one monitor already attached, rather than connecting them both at the same time. Otherwise, you may encounter display corruption that will make the problem difficult to troubleshoot.
Step 4
Check the settings of your newly connected monitors. In Windows, right-click on the desktop, select "Personalize" from the pop-up menu, and click on "Display Settings." Here you can adjust the settings of both monitors. You can select them from the drop-down menu in the middle of the window, or by clicking on their icons just above that menu.
In Mac OS X, click on the Apple icon in the upper-left corner of the screen, select "System Preferences," click on "Displays," and select the "Display" tab. You may need to click the "Detect Displays" button to get both monitors to appear in this menu. You may need to disable Expose and Spaces before attaching the second monitor.