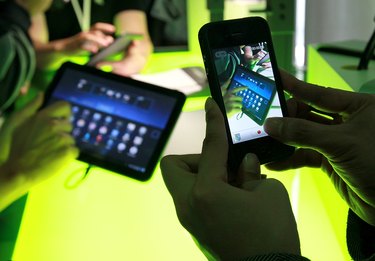 AdMob is a mobile advertising platform that allows coders of mobile applications to sell advertising space. So when you fire up the app a bar appears across the top or bottom of the screen with an advertisement. Often developers will use AdMob ads in the free version of their apps and remove it in the paid version. There are two main ways to block the ads, one is to block the internet connection and the other is to block out the space that the ad displays. Both are done through applications available in the Android Market.
Step 1
Unlock your Android device and open the application launcher. Find the "Market" icon and touch it. Press the magnifying glass icon, then type the name of the app you want to install. Some options are AD Blocker, AD Block and AdFree. Press "Enter" to search for the app, then touch the listing and press the button with the price or the word "Install." Press "Accept and Download," then wait for the app to install on your device. Press the "Open" button one the app has installed.
Step 2
Enable ad blocking with AD Blocker by touching the name of the application in which you want to block the ads. Choose "Block" from the pop-up menu. The next time you open that application the Internet connection on your phone will be disabled so that AdMob cannot download ad content. If the app needs the Internet to function properly you cannot block AdMob in this way.
Step 3
Set up ad blocking with AD Block by selecting the app for which you want to block ads from the list. Tap "Block" and the app will have the Internet connection blocked so that ads can't be loaded while the app is in use. Once you close the app, your phone's Internet connection will be re-enabled.
Step 4
Block ads while keeping an Internet connection open by using AdFree. This app requires that you have root access on your device since it routes the Internet connection through a proxy server that removes ad content. Once the app is installed, all the Internet traffic to your Android device will be filtered for ad content. The space where the ad was supposed to appear will show a white rectangle or an error message.