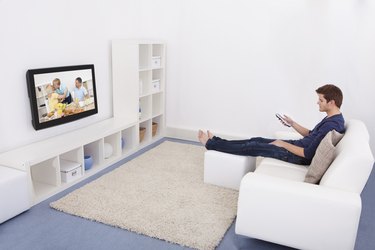 Cable TV and other services like Internet and phone service can take a pretty big piece out of the family budget, with monthly bills in the $100 to $200 range not uncommon. Having to pay an installation fee on top of that can make a new cable setup or change in service that much more expensive. It is possible to save the installation fee if you don't mind doing a bit of research, or installing your equipment yourself.
Check for Bundles and Offers
The first thing to do is be sure Comcast service is available in your area. Call them at 1-800-COMCAST (1-800-266-2278) or visit their website to check availability. All you'll need to do is enter your zip code. The website will list the bundles, like "Double Play" or "Triple Play," that combine cable, Internet and phone service. These bundles usually include free installation with a one- or two-year agreement. Sometimes you can avoid the fee by ordering online directly. Other options may include choosing several months of free premium channels (with a longer-term commitment) like HBO or Showtime. Premium channel offers sometimes include free installation as well.
Do It Yourself
Comcast and Xfinity digital TV customers get the option of self-installation. By doing it yourself you'll save the installation fee, but there still may be a charge for shipping and handling that will appear on your first bill, as posted on the Comcast website. Self-installation is fairly simple and the installation kit comes with everything you'll need to get your service up and running.
Basic installation will include connecting the cable from your wall to a cable box or modem, then connecting it to your TV. The installation kits come with very clear instructions and you can usually complete the installation process in under 30 minutes. If you're uncomfortable doing it yourself, ask a family member or friend to help.
Negotiate
Whether you call Comcast directly or visit one of their stores, you'll find that in most cases they're open to negotiating on installation fees. This is especially true if you're committing to a year or more of service. If you're already a Comcast customer and you're adding additional services, you can also negotiate the installation fees. If you find that the person you're talking to isn't helpful, don't hesitate to ask for a supervisor who can make a decision in your favor. You could also say something like, "I talked to a satellite TV provider, and they offer free installation in every room in my house."
Be Prepared
Before committing to a bundle or offer, be sure that the services fit your needs. If you already have a home phone, adding phone service from Comcast might not be necessary. If you don't watch many movies, leaving off the premium channels could be a money saver. The bundles shown on the website offer different channel combinations, as well as Internet and phone options at different price levels. Shop carefully and know what you want before you call or go to a Comcast store. And, don't be afraid to ask for a better price and free installation.