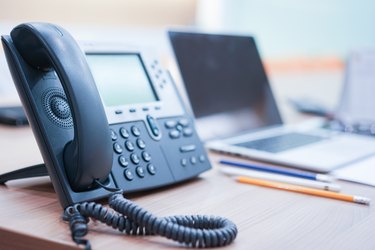 If you need to cut your monthly expenses but don't want to give up your AT&T landline phone service, it pays to check out your most recent phone bill and consider your calling habits. You can often reduce your bill considerably if you cancel phone service add-ons that you rarely use, bundle with other services, or change to a basic plan. The government also offers a subsidy program that AT&T accepts in some locations. You might also consider an alternative digital home phone service.
Remove Unnecessary Services
You can cut your AT&T home phone bill by removing some premium services you may have signed up for initially. For example, you might have paid a monthly fee to make your phone number private, or you might have added on a package for long-distance or international calls. AT&T also offers home phone maintenance plans that charge you a monthly rate in exchange for having any necessary phone or wiring repair and replacement.
You'll want to carefully weigh the effects of giving up the service before you decide to call and remove it. For example, removing your maintenance plan cuts your landline bill down but can put you in a financial pinch if you need something fixed.
Switch AT&T Landline Phone Service
As of 2019, AT&T advertises landline packages as low $31 or less for basic local service up to $66 for unlimited local and long-distance calls with several calling features. If you're on a high-end plan but don't make many long-distance calls, you can potentially save money by switching to the basic local service and pay for long-distance minutes as needed. Consider calling AT&T to discuss your calling habits and get a more affordable recommendation.
You can also explore metered and measured rate service options. Such plans allow you to pay a lower monthly fee but pay a certain amount per minute based on factors like time of day and call distance. Such offerings vary by locale.
Consider the Lifeline Support Program
The Lifeline program from the Federal Communications Commission can provide a phone line subsidy to people who have a low income or receive government assistance such as Medicaid, food stamps or Supplemental Security Income. If you qualify, you get up to $9.25 off your AT&T home phone service each month and can renew the subsidy every year. Visit the Lifeline Support website to find out if you meet the eligibility requirements.
However, AT&T does not accept the Lifeline assistance program in all locations. For example, AT&T stopped taking the subsidy in Illinois in 2018.
Bundle With Other AT&T Services
To get the lowest price on your AT&T home phone bill, bundle your landline service with other options such as internet and TV service through DirecTV or U-Verse. Bundling with other services earns a monthly credit on your AT&T bill that overall cuts your service costs. In some cases, a representative might offer you a special deal if it's the first item you have bundled and you switch over from other internet and TV providers. However, be sure to ask how your bill might go up after an initial service period.
Consider AT&T Digital Phone Service
AT&T offers a digital phone service as an alternative to a traditional landline as long as you also have an internet connection through AT&T. This option comes at a lower monthly cost than the basic landline plan, making it possible to get home phone service for around $20 a month as of 2019. You can also get cheaper long-distance calls with the digital service along with access to popular calling services like call waiting, caller ID, three-way calling and remote voicemail access.