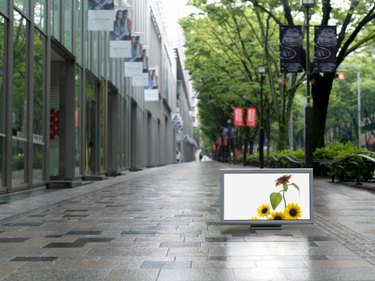 Philadelphia-based Comcast Cable Company, through the acquisition of several media companies such as AT&T Broadband in 2001, has become one of the largest cable television companies in the United States. Since 2010, Comcast has been marketing cable television services as Xfinity, which offers various digital cable television, internet, telephone and wireless services provided by the company.
Devices Used by Comcast
For the Xfinity service, there are several Xfinity set-top box manufacturers that Comcast uses to offer a variety of digital cable devices to customers. These devices utilize the advanced X1 platform. The X1 platform was launched in 2012 and is a digital TV format that Comcast says provides more extensive support for integrated internet content, as well as apps for video-streaming services, WiFi and a remote control that accepts voice recognition input.
Each type of Xfinity Comcast set-top box model has different features and abilities, and the company uses set-top boxes from several well-known manufacturers. The majority are produced by Motorola (known as Arris since the brand acquired Motorola in 2017). In certain regions, Scientific Atlanta, Cisco and Pace are also manufacturers the cable company currently uses.
Some of the more popular Comcast set-top box models include the Motorola RNG200N and the Pace TDC57D for regular digital television. For high-definition television and digital applications, the Xfinity set top box manufacturers of choice are the Scientific Atlantic 4250 and 8300, as well as the Cisco RNG100 and RNG200N.
Costs of Set-Top Boxes
You generally cannot buy a Comcast set-top box a la carte, but instead the company factors the cost into the monthly charge to its customers for television services. You cannot buy the X1 DVR set-top box from Comcast or through an Xfinity set-top box manufacturer, so you must get TV service from Xfinity to get the benefits of the system.
For the X1 DVR system, Comcast adds a $10-per-month DVR service fee as well as a $9.95-per-month HD technology fee, and each additional TV will cost another $9.95 per month.
It's estimated that a DVR service package for one primary TV and an additional four TVs could cost about $45 per month.
Installation of the Set-Top Box
The above prices do not include installation. A professional installation could cost you around $60, and covers the installation and an in-home tech visit. While you can't find an Xfinity cable box for sale, you can try installing the box the company provides by yourself. Comcast offers a self-installation kit to do so.
If you don't have a Comcast office near your home, Comcast will charge $15 for shipping and handling of the kit. If you want priority shipping it will cost you another $29.95 to have it sent to you. Lastly, if you choose to turn off your cable service, Comcast generally charges another $6 to have it turned back on.
Buying Your Own Cable Box
Perhaps you don't want to go through the trouble of having to rent a new cable box every time you change apartments or would just like to have your own that you can trust.
You can't find an Xfinity cable box for sale, but Comcast says that it's possible to purchase your own device or DVR from a retailer or authorized reseller in the United States (there are several from companies such as Samsung, Sony and Tivo). In order for it to work you would still have to activate your device with a Comcast-supplied cable card.
Comcast will supply the CableCARD device free to customers. Some devices, such as older Tivo devices, require a second card that will result in an extra charge. While you may not be able to find an Xfinity cable box for sale, if you subscribe to an Xfinity TV service package that includes equipment as part of the service, Comcast will give a monthly equipment credit of $2.50 for each retail device you own that has an activated CableCARD device.