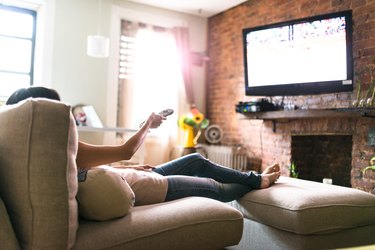 Comcast began marketing its cable television services as Xfinity in 2010. Xfinity offers a variety of digital cable devices to customers including devices that utilize the advanced X1 platform and those that can only receive basic cable. Each type of Xfinity Comcast set top box model has different features and abilities, so learning about them can help you choose the correct device for your house.
X1 DVRs
The Xfinity X1 line of digital video recorders (DVRs) is the latest line of Xfinity Comcast cable boxes. An X1 DVR can record programs while also giving you the ability to pause and rewind live TV. You can access Xfinity on Demand with the X1 DVR as well as use applications like Sports, Netflix, Pandora, YouTube and more. X1 DVRs come with voice recognition so you can talk into your X1 remote and tell it what program you want to watch. These DVRs also tie into other Xfinity Comcast services like Xfinity Home and Xfinity Voice.
Your X1 DVR can potentially record up to six programs at once, depending on the model. Common X1 DVR models include the ARRIS and Pace XG1v3, ARRIS XG1v4 and Pace XG1v1. The XG1v1 and XG1v4 can record up to six programs, while the XG1v3 can record up to four. All models include an HDMI option and the ability to pause and rewind live TV up to 60 minutes, but only the XG1v1 includes a digital auto connector (DAC) port and the ability to be connected through a component video cable. The XG1v4 is the only Comcast cable box to support Ultra HD 4K Netflix content.
HDTV Cable Boxes
HDTV cable boxes do not have built-in DVRs as the X1 DVRs do, but they tie in with your X1 DVR box. This means that you can watch your recorded programs from your HDTV cable box and can also set new recordings from it. You can access Xfinity on Demand and can pause and rewind live TV with certain models. Additionally, you can typically use applications on the box like Netflix, Pandora and more.
The common HDTV cable box models include the Pace RNG150N P2, Samsung RNG150N, Pace and Samsung XG2, Xi6 and Pace and Cisco XID X1. The Xi6 box is the only of these that supports ultra HD 4K Netflix, while all models but the Samsung RNG150N support X1 apps. Each of the Pace and Samsung XG1 and XG2 boxes support DAC. All boxes allow you to pause and rewind live TV up to 60 minutes.
Digital Cable Boxes
Xfinity still offers basic Comcast cable boxes with models aimed at those who don't want the Xfinity DVR services. These boxes enable you to watch basic cable channels and switch between these. You can't access X1 apps or pause or rewind live television. The digital cable boxes are comparable to the old cable experience of plugging a coaxial cable directly into the TV as the features are very limited. The digital cable boxes come in either standard definition (SD) or high definition (HD). Common examples of basic digital cable boxes from Xfinity include the Motorola DCT700, Motorola DCT2000 and Motorola DCT2500.