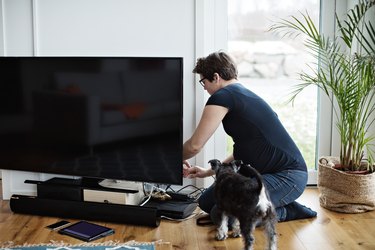 Often offered as part of a package with Verizon's Fios internet service, Fios TV's big selling point – straight from the source – is that it allows you to get "TV virtually anywhere, not just where the coax outlet is." When you sign up for Fios TV, you'll notice that you're charged equipment fees in addition to your base subscription cost. That fee includes a set-top box which, as it turns out, isn't really necessary for accessing the bulk of Fios TV's content. So, get your cable-cutting snippers out and get ready to ditch the set-top box.
The Fios Cable Box Controversy
Verizon's own proprietary Fios cable box (aka a set-top box) isn't just unnecessary, but some users see it as downright exploitative – at least according to a 2017 federal lawsuit, in which 140,000 Pennsylvania customers allege that Verizon deceives Fios customers into leasing the boxes.
According to the suit, Verizon deceptively claims that the set-top box is needed to view Fios content on your TV, while remaining silent about set-top box alternatives (which are plentiful and affordable). To access all of said content sans box, you'll need to take a two-pronged approach.
Go Local With QAM
While Verizon's set-top box does offer features such as an interactive guide and voice-compatible remote, you can often access local broadcast and cable channels without any sort of addition to your TV at all.
If your TV has a QAM (quadrature amplitude modulation) tuner, you don't need to worry about that Verizon cable box for watching TV in high-def. A feature present on most sets manufactured after 2006, built-in QAM tuners pick up digital programming. To watch these channels on your TV without a cable box, simply use your TV's channel scan function to find find free, over-the-air programming.
If your Fios TV subscription includes cable channels, you should be able to access them via the QAM tuner by connecting your TV to your cable wire via a coaxial connection (the type of connection that screws in to the back of the TV).
Stream Your Heart Out
Those Pennsylvanian Fios subscribers sued Verizon because Verizon didn't tell customers that they could easily access much of the premium and on-demand programming included with Fios TV – such as Netflix, ESPN and Amazon Prime Video – without paying for their set-top box.
All you need to access this sort of online programming is an internet-compatible TV. Android TV, for instance, is home to apps for each service listed above, as well as apps from Fios TV favorites like FX, TNT, MSNBC, Nat Geo TV and more. If you don't have a smart TV, you can download those apps on streaming devices such as those in the Roku, Amazon Fire Stick TV or Google Chromecast product lines.
All of these are far more cost-effective than paying a monthly $10 to $20 device fee, and they hook up to your TV easily via HDMI and USB connections. If you're a Fios TV customer, you can use your Fios subscriber credentials to log in to any of the specific services you have access to on your Fios plan.
With enough streaming services installed on other devices, your Verizon Fios channel list without the box looks just the same as it does with the box.