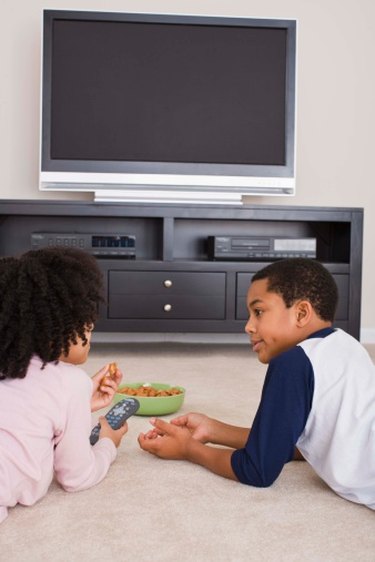 TiVo is a branded digital video recorder that offers menu guides and recording capability to users. Customers purchase a TiVo DVR or "box" upfront and then pay a monthly fee to access on-demand video, high definition programming and a menu interface which helps viewers find and record their favorite shows. TiVo does not provide content, rather, it works with a cable programming subscription or free local channels accessed through a digital antenna to make sure you never miss an episode of your favorite shows.
Step 1
Understand that TiVo is designed to never power off while it's plugged in; this feature allows TiVo to record television shows whenever they air.
Step 2
Locate the "TV Power" button on your TiVo standard remote, which is located just below and to the left of the black TiVo button at the top of the remote. Press the button to turn off your television set.
Step 3
Turn off your TiVo unit completely by disconnecting the power cord from the wall. Locate the AC power cord running from your wall outlet to the back of your TiVo box and pull the plug out of the wall. Understand that your TiVo will not record any shows while it is unplugged.
Step 4
Look at the front of the TiVo box and confirm that the green light is no longer illuminated, indicating that no power is running to the box. Perform this procedure if you plan to be away from your home or not using your TiVo for an extended period of time, want to save energy and don't want to record any shows while you are gone.
Step 5
Contact TiVo to discontinue your monthly subscription if you want to stop using TiVo altogether and thus, turn off your service, as opposed to turning off the box for a short period.