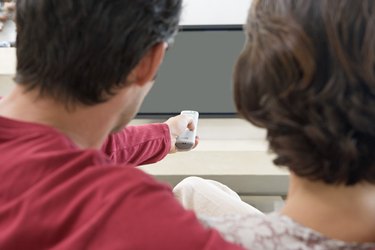 You don't need a cable box or satellite receiver to record television programs. The biggest perk of subscribing to cable or satellite TV is that it will give you more TV channels, which will thus grant you a greater variety of programs to record. While many cable and satellite receivers do come equipped with DVRs (Digital Video Recorders), which can make recording the programs captured by these receivers more convenient, you can just as easily purchase your own DVR or go old school and record your TV programs using a VCR or (to be more modern) DVD recorder.
Recording Programs with a VCR or DVD Recorder
Step 1
Connect your recording device (DVD recorder or VCR) to your television.
Step 2
Turn on your television and recording device. If you're using a DVD recorder, insert your DVD-R disc into the DVD recorder. If you're using a VCR, insert your VHS tape into the VCR and cue the tape to the spot where you would like to begin your recording.
Step 3
Set your DVD recorder or VCR to the proper channel for the program you want to record. If you are using a digital converter box on your television, set your DVD recorder or VCR to channel 3 or 4 (whichever channel you are using to operate your digital converter box) and turn your converter box to the proper channel for the program you want to record.
Step 4
Select your desired recording speed.
Step 5
Wait for your program to begin, then press record, or you can set the timer on your recording device to automatically begin recording at the appropriate time. If you choose to set the timer, bear in mind that you will need to leave your digital converter box turned on (if you're using one) in order to successfully record your program.
Recording Programs with a DVR
Step 1
Connect your DVR to your television.
Step 2
Search the show guide to find the program you would like to record, highlight it and press "record."
Step 3
Choose the recording option that best fits your needs. For example, do you want to set up a one-time recording, or do you want to record the show you highlighted anytime it airs?
Things You'll Need
Television

DVR

OR

Television

DVD recorder

Blank DVD-R disc

OR

Television

VCR

VHS tape
Tip
Recordings performed on a DVR box are saved to a hard drive. Some of these recordings will eventually need to be deleted, however, to make room for new recordings as memory space on the DVR hard drive fills up. Connecting a DVR box as well as a DVD recorder to your television gives you the ability to very easily record TV programs so that you may watch them on your schedule, and then transfer only those that you really want to save onto a permanent DVD disc.