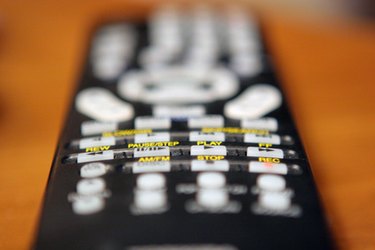 Radio Shack produces a wide variety of different products that you can use with your home electronic devices, including universal remotes. These remotes allow you to control multiple devices, including a television, DVD player, VCR or cable receiver, from a single remote once the remote has been programmed by following a few simple steps.
Step 1
Power on the television or the other device you want to use.
Step 2
Press down the button you want to program (such as TV, cable or VCR).
Step 3
Push and hold the "Setup" button until the LED light on the front of the remote flashes twice.
Step 5
Press the "Power" button, then select the programming button (TV, Cable, VCR) back and forth until the device powers off.
Step 6
Push the "Setup" button once more to lock the code into place.