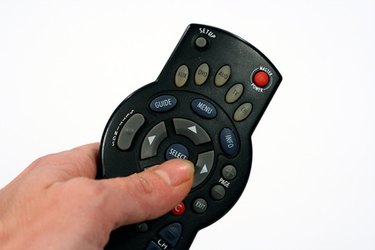 Universal remote controls are now distributed by many cable providers when customers sign up for cable services that require a receiver box. These universal controllers allow customers to conveniently manage compatible audio and video entertainment devices with one remote. Compatible devices include TVs, VCRs, DVD players, surround sound systems and other auxiliary devices. TVs are the most common devices customers want to program. Managing your TV with a universal cable remote control requires the manual or internal programming of specific codes based on the television's manufacturer.
Step 1
Power on the TV you wish to program. Point the cable remote control directly at the TV during the entire programming process.
Step 2
Locate the three- or four-digit code in the remote control's accompanying program guide. The code corresponds with the manufacturer of your television. If you do not have a program guide or your brand of TV is not listed, follow the instructions in Step 6 to internally program the remote to your TV.
Step 3
Locate and press the correct "Mode" key. These keys are located at the very top of the remote control and are labeled "Cable," "TV," "VCR" and "AUX." Press the "Mode" key labeled "TV" and the "OK" key simultaneously until the "TV" lights up.
Step 4
Locate and hold down the "Setup" key on the remote control. The light at the top of the cable remote needs to flash twice before releasing the "Setup" key. If your remote control does not have a "Setup" key, skip this step.
Step 5
Enter the television code you found in Step 2 and immediately follow with the "TV" mode key. Your TV should power off if the programming was successful. If not, repeat Steps 2 through 5 using the other available codes for your television brand or internally program the device as indicated in Step 6.
Step 6
Repeat Steps 1 through 4, skipping Step 2. Press the "+" and "-" channel keys to move through the different internal codes. This may take many attempts to locate the correct code. The TV will power off when programmed. Press the "TV" mode key to store the code.