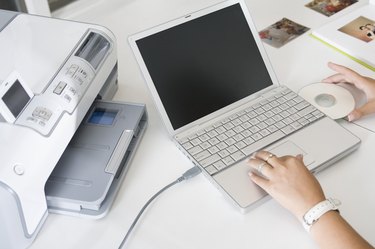 Inkscape transforms .jpgs into line art by turning pixels into scalable vector graphics. This program is free and it makes line art conversions uncomplicated, quick, and stress-free. Indeed, it very well might be one of the graphic industry's best-kept secrets for converting .jpgs into line art. If your .jpg contains suitable content for line art conversion, the use of Inkscape will result in remarkably accurate and versatile line art conversions.
Step 1
Select a .jpg suitable for line art conversion. The best images for line art conversion contain a single color, strong shapes, clearly indicated lines or a combination of all of these qualities.
Step 2
Download a copy of Inkscape.
Step 3
Install Inkscape onto your computer. This software runs using X11 technology. Mac users with systems older than 10.4 may need to install X11.
Step 4
Open the .jpg. In the Inkscape menu, select "File," "Open" and navigate to your .jpg. Click "OK."
Step 5
Click on the .jpg to select it. Eight arrows around the border will become visible.
Step 6
Open the conversion tool. From the main menu, select "Path" and "Trace Bitmap." A pop-up window will appear.
Step 7
Click on the "Update" button in the "Trace Bitmap" box. A preview of the line art conversion becomes visible.
Step 8
Adjust the "Trace Bitmap" settings to create the look of your final conversion. The default settings in this program typically create very good results, so you might want to try making a line art conversion without adjustments. Review the tutorial below to gain insight on Inkscape's tracing settings.
Step 9
Convert the .jpg to line art by pressing "OK" in the "Trace Bitmap" box.
Step 10
Review the results of your line art conversion. Select and delete the .jpg to fully unveil your results. If you want to adjust your results, select "Edit" and click "Undo" twice to restore your work session. Repeat the conversion steps until you are satisfied with the results.
Step 11
Save the line art in a useful file format: an .eps file is best if editing in another program is necessary.