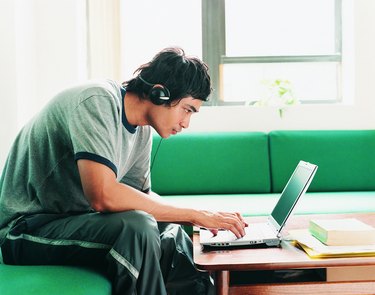 Some online digital music stores, such as Apple's iTunes store, sell music files in MPEG4 format, also known as MP4 or M4A files. You can play this type of file on any model of Apple iPod and some other digital media players, but many music players won't play MPEG4 files. For this reason, you may need to convert MPEG4 files to MP3 files with a free conversion program available on the Internet.
Step 1
Download and install Any Audio Converter from the link in the "Resources" section of this article. Once the file is downloaded, open it and follow the instructions to install the software.
Step 2
Open the Any Audio Converter program.
Step 3
Click the "Add Media Files" button at the top left of the All Audio Converter window. Locate and select the MPEG4 file you want to convert to MP3 in the window that appears and click "Open". The name of the file you selected appears in the main All Audio Converter window. Repeat as necessary to add all MPEG4 files you want to convert.
Step 4
In the upper right corner of the All Audio Converter window, select "MP3 Audio" in the drop-down menu.
Step 5
Click "Options" at the bottom of the program's left pane and set the folder where you want to store converted MP3 files by clicking the "Browse" button on the window that appears, selecting the folder, clicking "OK", then clicking "OK" again on the options window.
Step 6
Click the "Convert" button at the top of the program window to begin the conversion process.