Parallels and Virtualbox are virtualization solutions from parallels inc and Oracle, formally Sun Microsystems. While most Virtualization systems are based on similar principals, they use incompatible file format and tools. Virtualization tools are used to allow advanced functions such as copy and paste between the host and the virtual machine. Tools also include video drivers so the virtual machine can use the 3D video card of the host. It is, however, possible to transfer virtual machine from one virtualization system to the other, even if the process if not streamlined.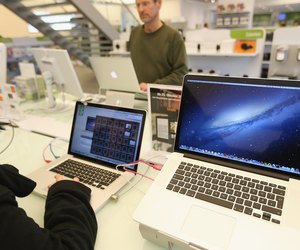 credit: Sean Gallup/Getty Images News/Getty Images
Step
Make a backup of your virtual machine before beginning the conversion process. Boot your virtual system using Parallels. Uninstall the Parallels tools and reboot if you need to.
Step
From the virtual machine, go to http://www.vmware.com/download/eula/converter_starter.html and download the VMware converter. Install the converter and run it. Click on the "Convert Machine" on the upper left corner of the window. Click "Next" twice and choose "Physical computer." Click "Next" and select "This Local machine." Click next and select all the drives of your system. Leave the "Ignore page file and hibernation file" checked.
Step
Click "Next" twice and select "Other virtual Machine." Click "Next" and enter a name for your new virtual machine. Select "Workstation 6.x" under "Type of virtual machine to create." Select a remote location to save your virtual machine to. Do not use a local drive you want to convert. Click "Next" and select "Allow virtual disk to expand".
Step
Click "Next" and select the same kind of network configuration you chose under Parallels. Click "Next" and keep all the options unchecked. Click "Next" and check if all the information are correct before clicking the "Finish" button that start the conversion process.
Step
Once the conversion is done close the virtual machine and launch VirtualBox. Go to the "File" menu and select "virtual media manager". Use the "ADD" button to add the file you just created to the manager. Close the manager and click on the "New" icon. Click "Next" and enter the name of your virtual machine, then select the operating system on it before clicking "Next." Choose the same amount of memory you had on Parallels for that virtual machine.
Step
Click "Next," click on "Use existing hard drive" and select the file you just imported into the Media Manager. Click "Next", review the information and click "Finish." Boot the virtual machine and go to the "Devices," menu and select "Install guest additions."