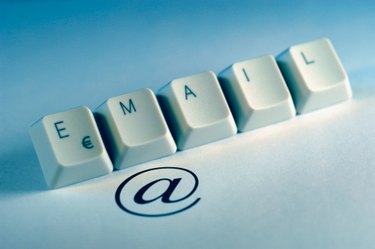 Creating a PowerPoint presentation can be a challenging, time-consuming, yet rewarding project. If you've ever created a large PowerPoint file and had to make changes to a single slide, you know how cumbersome it can be to mail the entire PPT file for approval. But you don't have to. A single slide can be copied from the larger presentation and sent by itself for quicker and error-free email delivery.
Step 1
Open the PowerPoint presentation from which you want to copy a single slide.
Step 2
Select the slide in Normal or Slide Sorter view.
Step 3
Click the "Home" tab. Click the "Copy" button.
Step 4
Open a new PowerPoint presentation.
Step 5
Click the "Home" tab once again. Click "Paste." The single slide you want to send will be one of two slides in the new presentation.
Step 6
Click "View," "Slide Sorter." Drag the slide you want to email to the first position in the pane.
Step 7
Select the blank slide, then right-click on it. Choose "Delete Slide," or press "Del." Only the slide you want to email remains in the deck.
Step 8
Click "View," "Normal," then click the "File" tab. Click "Share." Scroll to "Send Using Email." Choose whether to send your slide as an attachment or a link.