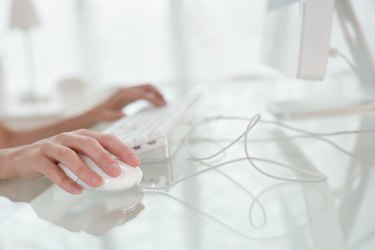 A banner allows you to advertise your product, service and brand, or it can just be used to call attention to an important message on the Internet. If you own a business with a website or just need an eye-catching addition to your personal webpage, a banner is an ideal solution because you can include the text and any pictures needed to reach your objectives. Using Adobe Dreamweaver, you can create your own banner to display on your website.
Step 1
Launch Adobe Dreamweaver. Create a new page by selecting "Blank Page," "HTML" and "" in the dialog box. Click "Create" to continue.
Step 2
Select "Tables" under the "Insert" menu in the design window.
Step 3
Enter a "1" in the "Rows" and "Columns" text fields. Enter values for other table choices like the "width" and "border thickness" as desired. Click "OK" when done to generate the table, which displays in the design window.
Step 4
Click "Image" from the "Insert" menu to add a picture to your banner. Position this image by clicking on it and choosing an option, such as "Top," from the "Align" menu on the "Properties" inspector. Click "Optimize" in the "Edit" section to enhance the quality of your graphic for the Internet.
Step 5
Type your banner text directly in the table. Format the text using the menus and buttons, such as "Size" and "Bold," in the "Properties" inspector.
Step 6
Click "Bg color" in the "Properties" inspector to add a background color to your banner. If you chose to add a border to your banner, click "Brdr color" to add color to the border outline.
Step 7
Click the "Design" tab on the workspace to preview your banner design, then select "Save As" from the "File" drop-down menu.