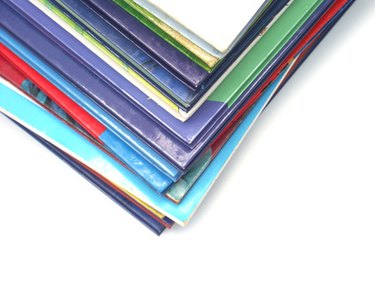 All versions of Microsoft Office ship with a large number of integrated templates to help you with your day-to-day formatting needs. With the release of Office 2007, Microsoft added new online capabilities for people to create and share their own templates. Bi-fold brochure templates are relatively difficult to come by so it's worthwhile to learn how to make your own should you ever need to create one for your personal or professional use. Any version of Office will have the capabilities you need to create a brochure.
Step 1
Navigate to the page layout tab on the ribbon, where you can access the layout and formatting tools necessary to create the brochure.
Step 2
Set your page orientation to landscape if you want a more standard book layout, or leave the orientation at the default portrait to create a tall brochure.
Step 3
Choose the background color of your choice. Depending on what you want your final design to look like, you can change the background to thousands of different colors from the layout tab.
Step 4
Set any custom margins. In most cases 1/4 to 1/2 inch is a sufficient margin for most printers. The purpose of these margins is to ensure that all your content gets printed and nothing is clipped by the printer.
Step 5
Hover the mouse near the top of your document to bring up the ruler display. Click the ruler at the document's midpoint to add a tab stop. On a standard sheet of paper in landscape mode this tab stop will be at the 4.5-inch mark.
Step 6
You can now add your content. Simply use the tab key to navigate between the two sides of your brochure.
Step 7
To print your brochure make sure to set your printer to landscape in the print settings dialogue if you designed your brochure in landscape mode.
Step 8
If your brochure requires print on both sides of the page, follow the above steps while designing the second side and when it is time to print, remember to flip your already printed paper over so both sides get printed.