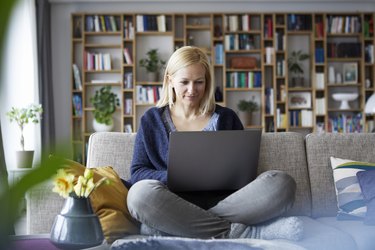 Microsoft Word has the ability to produce single or multi-fold cards. You can build a completely custom design or work off an existing template. While Word is highly effective, you have more design flexibility in a program like Microsoft Publisher. Consider Publisher or one of the numerous web based design programs that are both free and effective for card design. If Word is your favorite program, however, creating a high quality card is still possible.
Card Template for Word
You can find free templates with professional designs through a quick web search or you can opt for the templates already stored within Microsoft Word. There are also half fold greeting card template options and downloadable blank greeting card templates. The half fold greeting card template is the most popular but a tri-fold template also works well. To access templates in Microsoft Word, select "File" then click on "New." You will see a list of templates for various projects. Browse through the templates until you find the "Greeting Cards" option. Select this and you will see a variety of designs and styles ranging from greeting cards to note cards, event flyers and more. You can customize these to fit any purpose. Focus on finding the best fold option, then work choose your favorite design and the card will automatically open. At this point, you can fill in your text, add photos and work within the template design.
Single Fold Cards
Manually creating a quarter fold card template or a tri-fold card is fairly difficult. You are better off working from an existing template and clearing the design work while maintaining the dimensions in this case. A simple half fold is somewhat easier however. Simply divide the document into two columns and work on each side for the interior pages. After printing, flip the paper in the printer and create a second document in the same fashion. Work on each side for the front and back of the folding card. Print again and fold in half to create the card.
Card Stock and Printing
A folding cards will work fine on normal printer paper but you may also upgrade to card stock for special occasions. When upgrading the paper stock, check your print and printer settings to ensure the printer is ready to accept the thicker dimensions. The printer may jam or fail to print if fed thick card stock when it's setup for regular printer paper. Watch the printer work on the first draft to make sure everything is functioning properly.