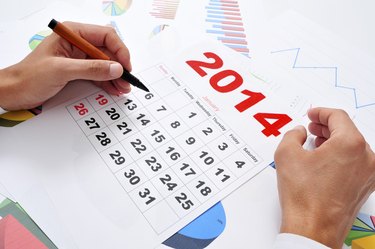 If you've ever made an online reservation for a hotel, you understand how important Calendar controls can be. They pop up and enable you to choose a date without having to type it into a text box. Microsoft Access had a Calendar control but Microsoft stopped supporting it in 2010. If you build Access forms that have Date fields, you can still help people add dates to form fields using another control built into Access 2013.
Step 1
Open an Access database that has the relevant form and click the arrow below the "View" button. Click "Design View" to place the form in Design view.
Step 2
Right-click one of the form's TextBox controls and click "Properties" to open the Property Sheet window. Click "Data" and review the value in the "Control Source" text box. If no value is there, click the arrow next to the text box to view a list of database fields. Select the database field to which you'd like to bind the TextBox control.
Step 3
Click the "Format" tab and then click the Show Date Picker drop-down menu and select "For Dates."
Step 4
Click the "Data" tab and find the "Input Mask" text box. If that text box has a value, delete it because the Date Picker will not work if the TextBox control on your form has an input mask.
Step 5
Click the arrow below "View" and select "Form View" to view the form in Form View. Click the TextBox control to which you attached the Date Picker control, then select the small calendar icon next to the control to display the Date Picker control (resembling a calendar). Click a date, and the Date Picker places that date into your TextBox control.