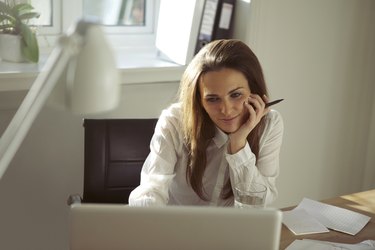 Email addresses are vital to conducting business. Regardless of the industry in which you are involved, your company needs an email address so customers and associates can contact you. Depending on the size of your business, you may need multiple addresses for individuals or departments of your business.
Keep It Simple
Among the most important things to keep in mind when you create an email address for your company is to keep it simple. It should be something that is easy for others to remember. It should also be short enough that it can easily fit on a business card. If it's too complicated, people will forget your address or make mistakes and send a message to someone else.
Multiple Email Addresses
In choosing a website builder for your business, ask whether the service accommodates multiple user email accounts, which is necessary if you have several people working for your company and you want to assign each person an individual email account. This is also advantageous when you want to assign a separate email account for different departments.
Free Address vs. Domain
While free email addresses are available if you do not have email addresses through your website domain, they have a major disadvantage. If you use one of the free services such as Yahoo or Gmail, the email addresses do not have your business included in the domain name. By using email accounts associated with your domain name, you promote your brand each time you present your business card or send an email.
Assigning Usernames
Take time to consider how to best assign usernames. One option is to create usernames that identify the title that the person holds in the company. For instance, if your company is XYZ Widgets, then your domain name might be xyzwidgets.com and your email address might be ceo@xyzwidgets.com. Common titles for this method would include "admin" and "support." This is a good option if you have a high employee turnover rate. This username method also works if multiple employees need to use the same email account, such as for support.