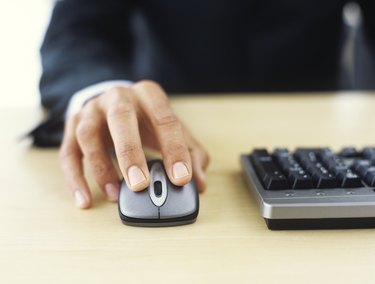 Microsoft Visio is an application that allows users to make several types of diagrams using various connecting shapes as well as charts, graphs, maps and flowcharts. One type of flowchart that is often used by many businesses is a decision tree, which determines possible outcomes and resource costs. The diagram often begins with an ultimate question with the outcome of either a "yes" or "no" answer, leading up to a final goal. Once you have thought of an outline for a decision, it's simple to create one quickly using Visio.
Step 1
Open Microsoft Visio on your computer and choose to create a new template file.
Step 2
Click on the "Connector" tool from the top menu. If you're not sure what tool this is, you can scroll over the tools until you see words "Connector Tool."
Step 3
Choose the shape that you want to use that asks the first question of the decision tree. The most common shape used for a decision tree is a rectangle or square.
Step 4
Double-click on the shape to type the text you want. Right-click to choose to connect the box to another box. Right-click on the first shape again and choose to create another connecting box.
Step 5
Right-click outside of the line near each connecting box and choose to add text. Above one box you will need to type, "Yes," and then type, "No," above the other box.
Step 6
Add the resulting text into each box that follows the possible outcomes of the decision. Once complete you can continue to add more connecting boxes that follow the decision making process you have planned.
Step 7
Click on the "View" option from the top tool bar menu and then choose to view your file in a print preview form. You can now see how your decision tree would look if you decide to print it out.