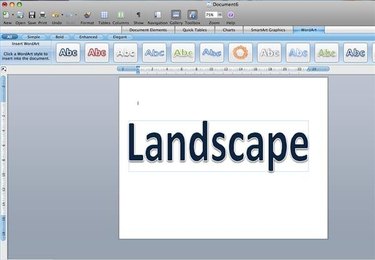 There are two different orientations in documents. Portrait mode is when the height of a document is longer than its width. In landscape mode, the document has a greater width than height. Producing landscape documents can be convenient when you are using large fonts for signs or banners, or when you need to have a table with many columns. Microsoft Word makes it very easy to create a landscape document. Here is a step-by-step guide to help you through the process.
Step 1
Open Microsoft Word. If a new document does not automatically open, go to "File" on the main menu and click "New Blank Document."
Step 2
Go to "File" and select "Page Setup." In the "Paper Size" drop-down menu, select the size of your document. US Letter is the standard paper size of 8.5 inches (width) by 11 inches (height). US Legal is a longer paper size of 8.5 inches (width) by 14 inches (height).
Step 3
In the "Orientation" section, select the icon button that shows the width of the document being longer than the height. Click "OK."
Step 4
Word should automatically format your document to the correct paper size and into landscape mode.
Tip
If you are working in landscape mode, you may want to make further adjustments to the page margins to give you even more space on the document. To change margins and layout, go to "Format" and select "Document."