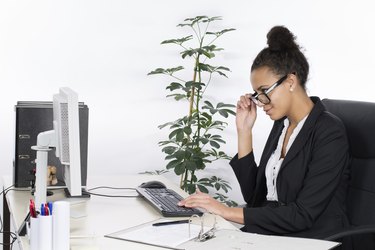 Your documents are more accessible and easier to navigate when they include a table of contents. Adobe Acrobat does not provide you with a convenient way of creating a TOC, but that doesn't mean your PDF documents can't have one. You can create links within a PDF file, or you can create a TOC in programs like Word or InDesign before you convert them to PDF.
Create a TOC in Adobe Acrobat
Step 1
Copy and paste the major headings and subheadings from your PDF document to Word or another word processing program that can save files as PDFs.
Step 2
Apply any formatting styles to the TOC, and add any images that you want to appear on the table of contents.
Step 3
Click "Save As" and click "PDF" in the Save As Type drop-down box. Click the "Save" button.
Step 4
Open your PDF document, if it isn't already open. Click the "Insert Page From Another File" button in Acrobat. Browse to and select the table of contents file you just created. Click "Open." The Insert Pages dialog box opens.
Step 5
Click the "Location" drop-down box and select "Before." Select the "First" radio button. Click "OK." The table of contents is added to your PDF document.
Step 6
Click the "Tools" button, "Content Editing" and then "Add or Edit Link."
Step 7
Draw a rectangle over the first heading in your table of contents. The Create Link dialog box opens. Choose "Invisible Rectangle" in the Link Type drop-down box. Select "Go to a Page View" in the Link Action pane. Click "Next." In the left pane, click the page you want this link to go to, and click "Set Link" in the Create Go to View box. Repeat this step for each link you need to make.
Create a TOC in Word
Step 1
Apply heading styles to each heading and subheading that you want on your TOC. To apply heading styles, highlight the heading and click "Heading 1" in the Styles pane on the Home tab. Apply the Heading 2 style to subheadings.
Step 2
Click the References tab and then click "Table of Contents." Choose a table of contents style from the list that opens. A table of contents is added to your document.
Step 3
Click "File" and "Save As." Click "Browse" and select where you want to save the file. In the Save as Type drop-down box, click "PDF." Click the "Options" button. The Options box opens.
Step 4
Click "Create Bookmarks Using" in the Include Non-printing Information section and select "Headings." Click "OK." Click "Save."