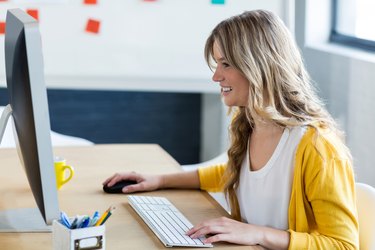 Creating numbered tickets in Word can seem difficult or even impossible if you are not familiar with all the capabilities of the Word program. If you have tried going to the Word template section and have been unsuccessful or frustrated with all the options and questions, there is an easier way. The simplest resolution for creating numbered tickets is to find existing templates that can be edited and adjusted to fit your needs.
Step 1
Click on the Help menu from an open Word document. The Help menu is usually listed in the very top toolbar and is the listing farthest to the right. When you left click on the Help icon, a drop-down menu will ask you to choose the type of help you are looking for.
Step 2
Choose the option "Microsoft Office Word Help." An assistance box will populate to the right of your document window. In the box labeled "Search for" type "Create numbered tickets" and click the green arrow. The Help function will search and provide a list of options within that area.
Step 3
Choose the template titled "Raffle tickets 6 per page." Word will provide a preview of the template and then ask if you would like to download the template. By choosing download, Word will replace your existing document with the raffle ticket template for you to edit.
Step 4
Place your cursor over "your organization name" on the template and begin to type the name of the organization or fundraiser the tickets are intended for.
Step 5
Change all other existing text to reflect the correct date and prizes by highlighting the words and either editing or deleting the existing text. Font size and style can be adjusted using the font toolbar above the document. Images can be added by using the Insert menu in the toolbar and following the same process as inserting images to a Word document.
Step 6
Create multiple tickets. Copy and paste the entire page as many times as needed to create multiple tickets once all information has been updated.
Step 7
Update the sequence of numbers of copied tickets by highlighting the number and clicking on the right button of your mouse. A drop-down menu will give you the option to update the field and the system will automatically update the number in sequence. Each ticket must be individually updated before printing.