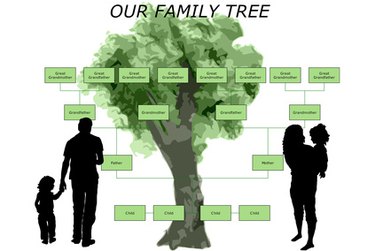 If you want to create a family tree, you can use Microsoft Word. By using Word, you can choose to download a family tree template or you can use the hierarchy function to create a family tree from scratch. After you download the template or create the hierarchy, you will only need to enter your family information to complete the tree.
Use Word Template
Step 1
Open Microsoft Word and click the Office button located at the top, left-hand corner of the screen.
Step 2
Click "New" when the Office menu opens. The "New Document" dialog box will open; you can create a new document or template here.
Step 3
Enter "family tree" or "genealogy" in the search bar at the top of the "New Document" box. A list of family tree templates will open.
Step 4
Click a template to preview a larger version of it. After you find a family tree template you want to use, click the "Download" button. The template will open in a new Word document.
Step 5
Delete the sample information from the family tree and type your family information.
Step 6
Click the Office button and select "Save As" after you finish entering your family information. Enter a name for your family tree and click "Save."
Create Family Tree Using Hierarchy
Step 1
Open a new Word document and click the "Insert" tab located in the Word ribbon at the top of the page.
Step 2
Look to the "Illustrations" section of the ribbon and click the "SmartArt" button. A dialog box labeled "Create a SmartArt Graphic" will open.
Step 3
Click the "Hierarchy" tab located in the left pane of the dialog box and click one of the hierarchy types to insert. Any of the hierarchies will work for creating a family tree. Click "OK."
Step 4
Add boxes to the hierarchy so you can add extra family members. To add a box, right-click over the hierarchy and select "Add shape." Select where you want to add the shape--before, after, left, right, below or above. Repeat this step to add additional boxes. If you need to delete a box, select the box and press "Delete."
Step 5
Enter the family names in the hierarchy. Highlight the sample text in the hierarchy and replace it with the name of a family member. Repeat this for each box until you have completed your family tree.