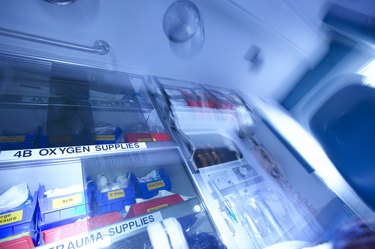 The components of the Microsoft Office Suite may be clearly delineated across the lines of word processing and desktop publishing software, but when you use Word and Publisher to create materials such as shelf tags, you'll find navigation and functions between the two incredibly close. You'll use one of these two programs to make shelf tags in Microsoft Office as they're the best-suited choices, and progress through either is almost exactly the same as you complete your task.
Step 1
Open Microsoft Word or Publisher. In Word, click the "File" tab, click "New" and click the "Labels" button. In Publisher, click the "Labels" button.
Step 2
Scroll through the template options or click a file folder icon for more template options. Word and Publisher offer many different sizes and settings for shelf tag options, since your requirements will vary. You can also scroll to the bottom of the template window to select a specific brand of label for the tag.
Step 3
Double-click a label template. The label opens in a new Word window or the current Publisher working window.
Step 4
Highlight any placeholder text on the label if you chose a template with words on it. Type over the template with the shelf wording, such as "File Folders A-M" or "Staplers and Tape."
Step 5
Add text to the label by typing into the Word label or clicking Publisher's "Insert" tab, clicking the "Text Box" button and drawing the text box on the tag. Type the tag text.
Step 6
Change the shelf tag's text appearance, such as to make it easier to see and read, by highlighting the text. Click the "Home" tab if it is not already enabled. Change the font, color and text size with the options in the "Font" part of the ribbon.
Step 7
Click the "Insert" tab. Click the "Clip Art" button. Type a term related to that particular shelf tag's contents into the "Search for" box, such as a skull and cross bones for "danger" or a hand-cart dolly for "heavy."
Step 8
Click "Go," scroll through the results and double-click a picture to add it to the tag. To resize the picture, press and hold the "Shift" key, click a corner and drag to shrink the image.
Step 9
Click the "File" tab. Click "Save As." Type a name for the shelf tag file and click the "Save" button.