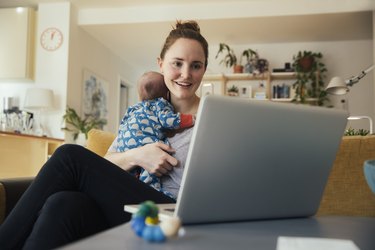 Genograms take family trees to the next level by further visualizing relationships and history with photographic elements, descriptors and symbolic cues. Long used by social workers, genealogy – a hobby that unites grandmas and millennials alike – brings genograms into the spotlight. If you're a budding enthusiast, don't overlook Microsoft Word. Design features in Word for Office 365 help you throw together a genogram like a pro.
Make a Genogram by Hand
In Word 2016 and Word 2019, both under the Office 365 umbrella, SmartArt is your ticket to basic genograms. This collection of chart and graph styles allows you instantly work from interactive, highly editable templates right in your Word doc. The collection of tree diagrams, in particular, offers plenty of options for making a genogram.
To get your geno on, click "Insert" on Word's toolbar and select the "SmartArt" button to open the SmartArt gallery. From here, choose from more than 200 starting designs that include list charts, process charts and hierarchy charts. The hierarchy charts are likely your best bet for genograms. Add text to each box and check out "SmartArt Tools" under the "Design" tab to make further changes, such as inserting boxes, moving selected boxes, changing each box's color, and determining exactly how boxes hang off your family tree trunk.
Download a Template
If you want a quicker start for your Word genogram that cuts out some footwork but still allows for editing, consider downloading a genogram template.
Sites like Template.net, Template Lab and SampleTemplates offer dozens of free genogram templates in PDF, Apple Pages and Word formats. As a Word user, you'll want to look for .doc and .docx file formats. Simply download the template of your choice, open it up in Word, and fill in the blanks with your information.
Compared to using SmartArt for Word, these templates aren't as bespoke, but they require less tinkering. What they lack in specificity, they often gain in flashier, more complex visual designs.
Go Beyond Word
Let's say drawing a genogram in Word just doesn't cut it. If you're ready to ascend from genogram newbie to genogram ninja, it might be time to move beyond Word.
Specialized genogram creation software such as Genogram Analytics allows you to point, click and type much in the same way as SmartArt, but it offers a far greater variety of symbols and visual elements, as well as expanded details for illustrating family dynamics and complex family situations. To get your toes wet, GenoPro 2018 lets you download and use the software for free, although it limits your genogram to 25 individuals until you purchase the full version. Give it a shot – and if you're a student with a genogram-centric school project, you can use the full version for 180 days at no cost.