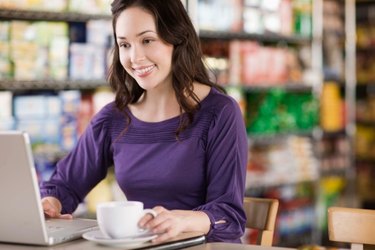 When you have a photo with a background that does not add value to the overall picture, you may want crop the photo. Cropping a photo helps readjust the focal point by increasing the size of the selected area and eliminating the space outside that area. After you save a scanned photo to your computer, you can crop the specific area of the photo you want people to focus on using a photo editing software program, such as Windows Live Photo Gallery, Paint or Photoshop. Windows Live Photo Gallery and Paint are included with the Windows operating system, while Photoshop needs to be purchased separately.
Step 1
Open your scanned photo file in a photo editing program such as Photo Gallery, Paint or Photoshop.
Step 2
Select the crop tool that appears in the photo editing program's toolbar. It is the icon figure that has an "L" shape with another "L" on top of it, positioned upside down. You may also locate it by scrolling your mouse over each icon, and holding it there for a second to pop up with information on what the tool is. The pop up should appear telling you it is the "Crop" or "Crop Tool." In Photo Gallery, first click "Fix" on the toolbar and then select the "Crop" tool. For Paint, click on the "Select" icon.
Step 3
Hold your mouse over the photo. It will appear as a transparent box with square tabs around it. If you are using Paint or Photoshop, the transparent box will appear when you click on an area of the photo and drag your cursor down and across to form the box.
Step 4
Define the area you want to crop through the transparent box. Move the transparent box around your photo by placing your cursor in the box and pressing down to drag. Adjust the selected area by clicking on a corner square tab and dragging it in or out. If you are using Paint, click the "Select" icon to remove the transparent box and re-click "Select" to reposition your cursor to form a new transparent box.
Step 5
Apply cropping to your photo by going to the "Crop" icon and clicking on its drop down to select "Apply crop" in Windows Live Photo Gallery. Click the "Crop" icon in Paint. Alternatively, right-click on your mouse button to select "Crop" in Photoshop.