Microsoft Paint, the no-frills graphic software package included with the Windows operating system, may not have as many tools or options as other more robust programs, but it does the trick for simple operations. When working with digital photographs, for example, Paint's selection tools are optimal for a quick cut and paste or just cutting.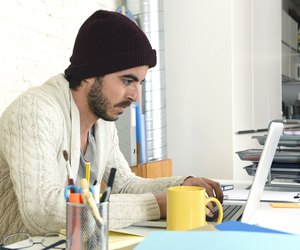 credit: OcusFocus/iStock/Getty Images
Step
Open Paint. Click the Paint button. Select "Open." Locate the photo with the face to cut and double-click its file name. The picture opens in the Paint workspace.
Step
Click the "Select" button, which looks like a dotted square, on the left side of the ribbon. Choose the "Free-form selection" option.
Step
Draw an outline around the face to cut. Paint surrounds the area with a dotted square, but knows to keep the shape of the face for cutting.
Step
Click the "Cut" button on the left side of the ribbon. The face is cut from the picture.