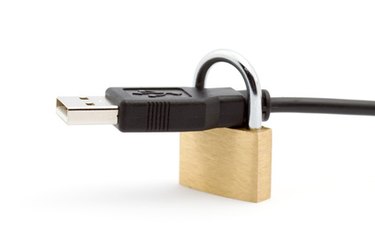 Zip file is a data compression and archive format. The file size is compressed in order to save storage space and allow faster transferring across a network or over the Internet. Most Zip file compression programs also allow the files to be encrypted while the file is being compressed as an added security feature. Decrypting the Zip file is as easy as entering the correct password, but there are times when the password is forgotten. Decrypting a Zip file without a password is not easy, but can be done with the right software.
Step 1
Click on the link at the Resources section below to open "lostpassword.com" and click on the download link to start downloading Zip Key, which recovers passwords for Zip archives. Allow the software to completely download and click on the downloaded file if the installation file does not open.
Step 2
Follow the on-screen prompts which will guide you through the installation process. Accept the user agreement and click "Finish" to complete the installation process.
Step 3
Open the password-recovery program. Click on "Recover File Password" on the program interface. From the resulting "Open" window, choose and double-click on the Zip file you wish to decrypt. Allow the program to complete the password-recovery process. View the resulting password, which will be displayed on the interface as soon as the process is completed. Open the Zip file and enter the password to decrypt the file.