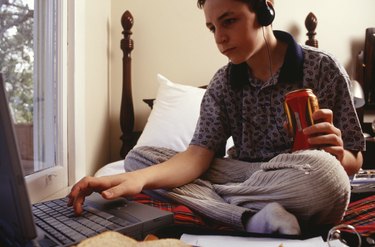 When you sign up for a Badoo account using your Facebook account, Badoo adds your Facebook photos to your albums. Furthermore, moderators might move some of your pictures to other albums or may even remove some of them. Delete a photo or video from Badoo if you think it violates the service's terms, want to protect your privacy or are unhappy with it. You can delete entire albums, not just individual photos. Deleting photos may lower your Badoo photo ratings.
Delete Photos and Videos
Click your picture in the upper-right corner of the page after you log in to your Badoo account and click your name to open your profile. Click the "Photos" button to view all your photos, videos and albums. Locate the photo or video you wish to remove, mouse over it and select "X" in its upper-right corner. By default, Badoo attempts to move the photo or video to the Private Photos album. Uncheck the "Copy to my Private photos" box to display the Delete button. Select "Delete" to remove the picture or video.
To remove an entire album, click "Delete album" below its cover photo. Uncheck the "Make this album private" box to display the "Delete" button and click it to remove the album from Badoo. To make an album private -- so that nobody can view it -- select "Make this album private" instead of "Delete album."
Deleting photos or entire albums may lower your Badoo photo ratings, especially if some of the photos were rated high by many users. Group photos and pictures without you are not rated; deleting them doesn't lower the photo rating.