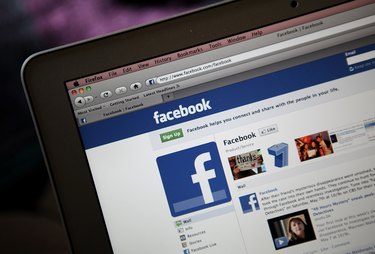 Facebook is one of the largest online social networks, and many of its members make use of the site's Photos feature to share snapshots with their friends, family members and co-workers. When you first upload a picture to your Facebook profile, you can enter a description, tag other people in it and add it to an existing album. If you later decide to change a photo's properties, you can edit it without losing the comments that others have written.
Step 1
Open a Web browser and go to Facebook.com.
Step 2
Sign in with your email address or Facebook username and your password.
Step 3
Click on the "Photos" tab from the application list on the left side of the main Facebook page.
Step 4
Select the subtab labeled "My Uploads."
Step 5
Locate the album that contains the photo you want to modify and click on the "Edit Album" link beneath it.
Step 6
Modify the text in the "Description" field next to the thumbnail of the photo you want to change.
Step 7
Click on faces in the photo's thumbnail to tag other people in it. You can also click on the "X" button next to a person's name to remove an existing tag.
Step 8
Open the "Move to" drop-down menu and choose the album where you want to move the selected photo.
Step 9
Press the blue "Save Changes" button at the bottom of the page to save the photo changes without losing the associated comments.