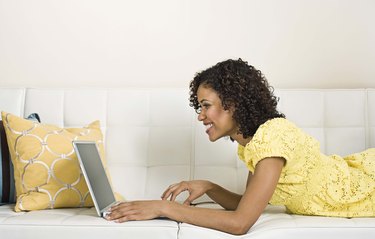 If you have photos in your email that you want to share with your friends on Facebook, you can easily put them on Facebook. Once you save the photos to your computer, you can either create a new album for them or add them to an existing album on Facebook.
Step 1
Log in to your email account. Select the photo you want to upload to Facebook and save it somewhere on your computer that you will remember.
Step 2
Log in to Facebook and go to your profile page.
Step 3
To upload a photo as your profile picture, hover over your current picture. Click "Change Picture" and choose "Upload a Picture" from the drop-down menu. Locate the file on your computer and click "Choose" or "Upload."
Step 4
To upload a photo to an existing or new photo album, click on the "Photos" tab at the top of your profile page. Click "Create a Photo Album." You can also choose to add the photo to an existing album by clicking one of your albums at the bottom of the page.
Step 5
Enter the album name, location and description, and select who can see your album. Click "Create Album" and choose the photos you want to upload.
Step 6
Once you have uploaded your photos, you can organize them by using Facebook's drag-and-drop feature. You can also change the captions and check which photo will be the album cover by clicking on the "Edit Photo" tab in your album.