When you change your relationship status on Facebook, the social network automatically creates a wall post detailing your changed relationship status. As long as there's a picture of you and the person in one of your albums, and it's tagged, the photo will also appear beneath your changed relationship status wall post.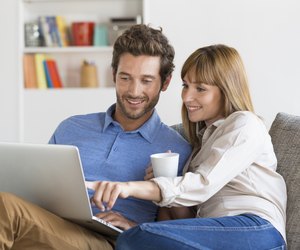 credit: LDProd/iStock/Getty Images
Step
Sign in to Facebook and click on "Profile." Click "Photos" on the left sidebar.
Step
Click on the album you want to add your relationship profile picture to, and then click "Add Photos." If you want to create a new album, click on "Upload Photos" and then give the album a name.
Step
Click on "Select Photos" and then click the photo from your computer. Click on "Upload." Click on "Done." This takes you to the uploaded photo.
Step
Click on the "In This Photo" box and type your name to tag yourself; then type your significant other's name to tag her.
Step
Click on "Save" to save the tags.
Step
Click on "Home" then "Edit Profile." Click on "Friends and Family," and then click your relationship status.
Step
Type the person's name, and then enter your anniversary, if desired. Click on "Save." The person will then need to confirm the relationship on her Facebook page. Once confirmed, a new post will be added to your wall with the message "[User] is in a relationship with [User 2]." The picture in the wall post for the changed relationship status will be the photo you uploaded and tagged.