If you have posted a lot pictures on Facebook and want to make sure your friends see each and every one, tagging them all is a surefire way to get their attention. While you can always tag photos one at a time when you upload them, Facebook gives you the option to tag a full album at a time. This not only saves time, but it saves excessive wear and tear on your mouse if you've crammed an album with a few hundred photos.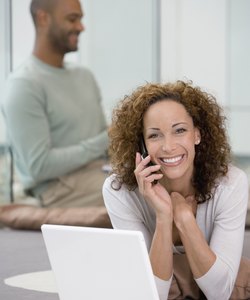 credit: Klaus Tiedge/Blend Images/Getty Images
Step
Log in to Facebook and go to your Timeline page. To get there quickly, just click your name at the top of any Facebook page. Click the "Photos" link beneath your cover photo and then click "Albums." If you haven't created the album yet, or if you want to add more photos to an existing album, do that before you start tagging.
Step
Select the album you want to tag and click the "Tag" button located to the right of the Album title. A text field appears above the album photos with an active cursor in it. Begin typing a friend's name. When the person's name appears below the text field, click it. Your friend is now ready to be tagged.
Step
Click every photo in the album that you want your friend tagged in. A small box appears on the photo where you clicked it, indicating that the photo has been tagged successfully. For best results, aim for your friend's face when you click the photo. If your friend isn't really in the photo, click anywhere that you would have liked him to be. While there aren't any enforced guidelines in Facebook's Community Standards, it's generally bad form to tag a face with the wrong name. Try to avoid tagging friends on fire hydrants, in front of moving vehicles, or anywhere below the waistline.
Step
Click a photo a second time if you decide you don't want that photo tagged or if you tagged the wrong person. This clears the tag from that photo so you can exclude it or try tagging it again.
Step
Click the blue "Save Tags" button when you are finished tagging the photos in the album. Click the "Close" button if you're finished, or begin again with someone else's name.