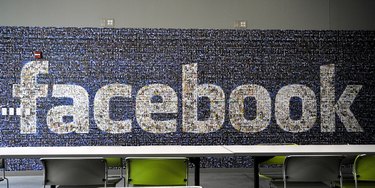 As a business owner using Facebook for marketing purposes, uploading photo albums is an effective way to share information about your business and products online. Tagging photo albums helps to create a viral marketing effect, as tagged albums are shared across multiple members' news feeds. To ease the time burden of tagging individual photos, Facebook uses facial recognition software, which allows members to tag multiple photos at once. Due to privacy limitations, automatic tagging is not always an option. Save time by taking full advantage of this feature whenever offered.
Step 1
Click the downward-facing arrow in the upper right corner of any Facebook page and select the business page where you wish to post photos from the "Use Facebook As" section of the resulting drop-down menu.
Step 2
Upload photos using the "Photo/Video" option that appears just below your business page cover photo. When possible, Facebook organizes your photos by similar people and offers tag suggestions for your approval or adjustment. Confirm that all photo tag suggestions contain accurate Facebook member names and that tags are placed over the correct faces.
Step 3
Click the "X" that appears in the upper right corner of any photo tag suggestion to remove an incorrect tag. Enter additional names in the space provided above each photo. Select the "Save Tags" option and click "Done Tagging" to confirm.