Adding photos to your eBay auction not only shows buyers what you are selling, but the photos can identify specific details and features of the item. EBay requires at least one photo for each listing, and you can add up to 12 photos to each listing for free. EBay allows photos in JPEG, PNG, TIFF, BMP and GIF formats. JPEG files need to be 7MB or smaller, unless copying from a website. For all file types, the longest side must be at least 500 pixels; the recommended length is 1600 pixels. Add your own photos, copy one from a website with permission or use an eBay catalog image.
Warning
EBay does not allow photos with added borders, added text or artwork, or watermarks other than ownership and attribution.
Adding Your Own Photo
New Listing
To add your own photo of an item to a new listing, click My eBay and select Selling from the drop-down menu. Select Sell an Item, type the description to categorize the item and click Create.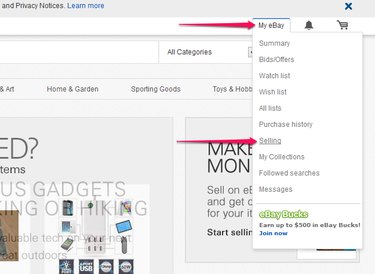 In the Describe Your Item section, click Add Photos. From the File Upload box, choose a file and click Open.
The added photo is displayed along with a reminder to add more photos. EBay optimizes each photo with eBay's zoom feature so the image enlarges when you hover over it on the auction page.
If you want to make changes to the photo, click the image. The pop-up gives options to rotate, crop, adjust or remove the photo.
Existing Listing
To add a photo to an existing listing, go to your My eBay page and select All Selling from the Sell menu. From the list of items, choose the listing you want and click Edit.
Select Add Photo in the "Describe Your Item" section. When finished, click Revise It.
Tip
For the best quality photos:
Use the Auto White Balance option on your camera or cell phone camera.
Place the item against a plain background.

Take photos as close as possible to avoid excessive white space.
Use close-up shots and different angles to show detail and texture.
Show scale for smaller items by placing a coin or ruler next to the item.

Copying Photos From a Website
Another option for adding photos is to copy a photo from a website. Copying photos comes in handy if you are selling a manufactured product and want to use the image provided by the supplier, or if you want to import an image from your own website. Photos from websites must be smaller than 12MB and can only be used as the first picture if the item is new.
Warning
To avoid copyright infringement when copying a photo from a website, obtain permission from the owner of the image or use a copyright-free image.
Tip
EBay offers a watermark creation service to add photo attribution to an image in the "Bring Your Item to Life With Pictures" section of the listing form.
Create a new listing or open a listing from your seller page. After you click Add Photos, choose Copy Your Photos From a Web Address.
Tip
If you don't see the option to copy a photo from a website, switch to the advanced listing tool and click Add/Edit Photos.
Enter the URL and click Import.
Edit the photo if necessary and click Finish.
Choosing an eBay Catalog Photo
EBay lists items in its catalog with pictures you can use in your listings. To choose an eBay catalog photo, you must first create a new item by selecting Sell an Item from your seller page. Enter a description of the item and click Find This. Choose the image that matches your item and click Sell One Like This. The image is added to the item listing. Add additional details to complete the listing.
Warning
Always choose an exact match to the item when using the catalog photos. Color, size and version must match to avoid misleading the buyer or removal of your listing. If you can't find an exact match, you can ask eBay to add a product to the catalog by contacting the Catalog Support Team.