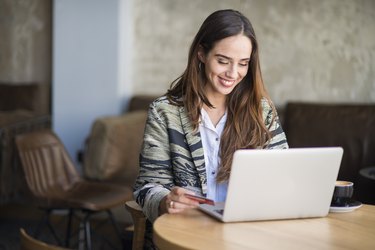 When someone lists an item for sale on eBay, they have a limited amount of space to work in all the essential information. This may leave you, the buyer, trying to decipher a sea of acronyms. One of the most commonly used acronyms on the popular online auction site is "EUC," which means "excellent used condition."
What Does EUC Stand For?
On eBay, you have plenty of choices when you're filtering searches for an item's condition. You can choose "new with tags," "new without tags," "new with defects," "pre-owned" and "not specified." If pre-owned is among your options, you'll see used items in varying conditions. "EUC" means an item is in excellent used condition, but the condition may be subjective.
What Does EUC Mean?
To better understand the EUC meaning, it can help to understand the sliding scale recommended by eBay for listing items. Excellent used condition means it's perhaps been used once or twice but is still like new. Good used condition (GUC) means it has probably been used many times, but it shows minimal signs of wear. Very used condition means an item has seen better days.
How Do I Verify an Item's Condition?
Even if a seller says something is in "EUC," you should read the item description and look closely at photos. Keep in mind that sellers take the most appealing photos possible of the item, including shooting it in perfect light. This may include using a filter to make an item look less faded than it is. Rely on the description rather than your eye in these cases.
Verifying Condition
Aside from reading the description and scrutinizing the photos, take a look at the seller's rating on eBay. You can do this by clicking on the link by their username. If a seller is routinely misrepresenting items as EUC when they're GUC or worse, you'll often be able to tell by reading through reviews from past purchasers.
If You Have Further Questions
If you still aren't sure what the seller uses as an EUC definition, there's no harm in asking. You can directly message a seller on eBay by clicking on "Contact Seller" from the seller information section at the top of the page. Ask specific questions about the item's condition. If it's a sweater, for example, ask about piling, holes or fading. A reputable seller will have no problem replying and may send additional photos if you're still hesitant to buy.