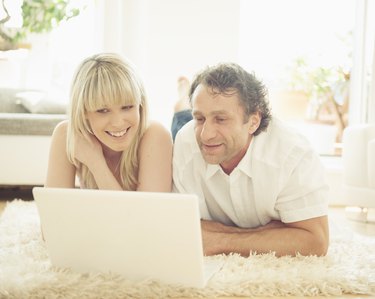 EBay offers a platform for selling, but the website comes with risks for both buyers and sellers. Understanding these drawbacks allows both parties to protect themselves to create a positive buying or selling experience.
Costs and Fees
The eBay fee scale varies depending on the type of item you list, selling price and whether or not you have an eBay store. Sellers pay both an insertion fee and a final value fee. EBay also offers upgrades to listings, such as a bold listing, a larger gallery for photos, subtitles and a themed layout for the listing, which cost extra. These fees add up over time, taking away from the profit. Sellers also invest time in answering questions and managing the listings. When selling low-priced items, that can result in low profits when you factor in the amount of time spent on the listing. Estimating the fees before listing helps determine if selling the item will be profitable.
Fraud and Scams
EBay has policies in place to control how the website is used, but both buyers and sellers do face the risk of scams and fraud. Sellers might intentionally misrepresent items for sale. Bidders might skip out on paying or try to return an item after receiving it. Both buyers and sellers are encouraged to resolve problems directly with one another. If the other party doesn't respond, the eBay Resolution Center is an option. The user chooses the specifics of the issue and provides information to get help with a resolution.
Poor Customer Service
Anyone can sell on eBay, which means buyers can't be sure what type of customer service they'll receive. The seller might be slow to respond to questions. Shipment of the item may not be prompt, or the seller may fail to properly package the item for shipping. Reading a seller's reviews before bidding on an auction item gives the buyer a sense of the customer service provided by a seller. Generally, a seller with lots of transactions and mostly positive feedback is a better option than new seller or one with several major red flags in feedback.
Difficult Customers
From the seller's end, dealing with customers is sometimes a disadvantage of eBay. Some customers might complain about the smallest thing or be very demanding. Buyers have the option of leaving negative feedback for sellers, which can hurt credibility. Sellers can protect themselves by listing items accurately and explaining policies upfront. EBay requires sellers to establish a return policy. The policy could simply be that there are no returns and items are sold as-is. Providing top-notch customer services and providing information upfront can eliminate some difficult customers.