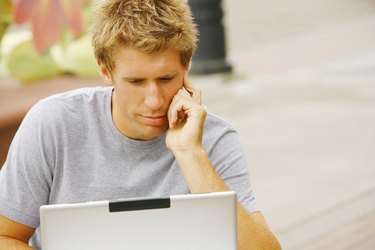 Facebook is a social network that helps you connect with family, friends, work colleagues and other acquaintances. You can share status updates, photos, videos and content you find on the Web with those you've befriended on the Facebook service. If you've never signed up with Facebook before and would like to join for the first time, you can register an account in just a few steps.
Step 1
Visit the Facebook home page at Facebook.com.
Step 2
Enter the requested information into the fields under the "Sign Up" heading on the page. Facebook asks for your first name, last name, e-mail address, a preferred password, your gender and your birthday. Click "Sign Up" when finished.
Step 3
Type in the security-check "captcha" characters that Facebook displays, and then click "Sign Up" again.
Step 4
Log in to your e-mail service to automatically find friends on Facebook. You can use Windows Live Hotmail, Yahoo!, AOL or another e-mail service if you choose. You can also skip this step by clicking "Skip this step."
Step 5
Enter some profile information, such as your high school, college and current employer. You can also click "Skip" to bypass this page.
Step 6
Click "Upload a Photo" to put a photo on your Facebook profile page. Browse to locate the photo you want to use, and click "Open" to upload it. You can also skip this step by clicking "Skip." You have successfully joined Facebook for the first time.