By default, PowerPoint presentations have at least two placeholder boxes on each slide -- the title and body placeholders. You can delete individual titles from the slides or prevent PowerPoint from using placeholder titles by editing the master slides.
Delete Individual Titles
Step 1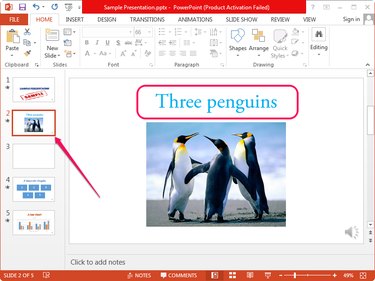 Open the presentation you want to edit in PowerPoint or create a new presentation and select the slide you want to edit from the left pane. Locate the title at the top of the slide.
Step 2
Click the title to switch to editing mode and display the title box -- it has dashed borders. Click one of the dashed borders to select the title box -- the borders change to solid lines when the box is selected.
Press Delete to delete the title.
Delete Placeholder Titles From All Slides
Titles are not deleted automatically from existing slides when you edit the master slide; the new layout is only applied to new slides. You can, however, apply the new layout to existing slides manually.
Step 1
Open the presentation in PowerPoint, switch to the View tab and then click the Slide Master button in the Master Views group to view the master slide.
Step 2
Select one of the slide layouts from the left pane, select the title box by clicking one of its borders and press Delete to delete it. Unchecking the Title box in the Master Layout group also deletes the title placeholder.
Repeat the process to delete the title placeholders from more slides. Click the Close Master View button in the Close group to save the changes and close the Master Slider view.
Step 3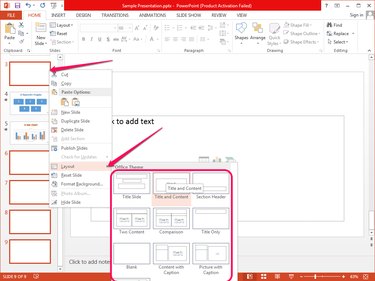 Remove the title from existing slides by reapplying the layout. Right-click each slide in the right pane, select Layout from the context menu and then select the new layout from the Office Theme section.