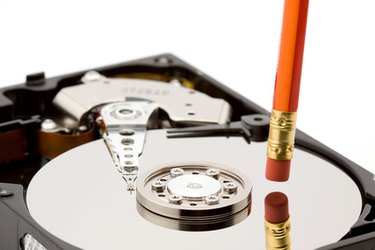 Temp Files (sometimes called the TEMP folder) is one aspect of Microsoft Windows operating systems that offers peace-of-mind to personal computer (PC) users. Temp Files is a folder stored on your hard drive. Many third-party applications and programs use the Temp Files folder, in addition to just Windows. Temp Files can include copies of changes to a document using a word processor. It can also include software initially used to install a program. Files are stored in the TEMP folder automatically, in the background and over time that folder can deplete hard drive space. Windows operating systems include a feature that will help you easily find and delete Temp Files.
Step 1
Save your work and exit out of all programs and applications.
Step 2
Access the "Disk Cleanup" tool directly by using the "Run" command "cleanmgr." The "Run" command can be accessed on your Windows Start menu or by pressing the "Windows logo key" plus the letter "R."
Step 3
Select the drive from which Temp Files will be deleted in the "Disk Cleanup: Drive Selection" dialog box. Usually the "C:" drive houses the Windows operating system. Click the "OK" button.
Step 4
Wait for the "Disk Cleanup" dialog box to finish "Calculating," indicated by the green progress bar advancing from left to right.
Step 5
Check the "Temporary files" box in the "Files to delete" section, if it's not already. Also decide if you want to check and uncheck the additional options.
Click the "OK" button and select "Delete Files" in the subsequent pop-up confirmation window to clean Temp Files from Windows. Another green progress bar indicates action is taking place. However, if there are a small number of files, the indicator may appear for only a brief second; it's okay if you miss it.