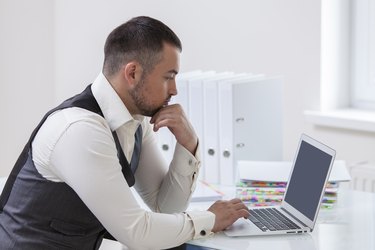 If a problem prevents you from logging in to Windows with a smart card, start your computer in safe mode and disable this security feature. Whether you log in with a physical or virtual smart card, Windows stores your settings in the Windows NT Registry. If you're able to log in to Windows, you can disable smart card login for future sessions by editing your local group policies. Disabling the Smart Card Plug and Play service removes the option to insert a smart card when logging in.
Start Windows in Safe Mode
Step 1
Turn on your computer and hold down "F8" as Windows boots. Select "Safe Mode With Networking" from the boot menu and press "Enter."
Step 2
Hold down the "Windows" key and press "R" to open the Run dialog. Type "Regedt32" (without quotes, here and throughout) at the prompt and press "Enter." The Windows NT Registry Editor opens.
Step 3
Expand the file path to the smart card login key by selecting the following directories:
HKEY_LOCAL_MACHINE\Software\Microsoft\Windows\CurrentVersion\Policies\System
Step 4
Right-click "scforeoption" and select "Modify" to edit the key's properties. In the Value Data field, change the current value of "1" to "0" and click "OK."
Step 5
Close Registry Editor and restart your computer in normal mode. The login screen prompts you to enter your username and password rather than insert a smart card.
Disable Smart Card Plug and Play Service
Step 1
Hold down the "Windows" key and press "R" to open the Run dialog. Type "gpedit.msc" at the prompt and press "Enter" to open the Local Group Policy Editor.
Step 2
Expand "Computer Configuration," "Administrative Templates" and "Windows Components" in the tree browser. Double-click the "Smart Card" folder in the main window.
Step 3
Right-click "Turn On Smart Card Plug and Play Service" and select "Edit." In the Properties dialog, select "Disabled" to turn off this service and remove the smart card option from the login screen. Click "Apply" and "OK" to save your changes.
Step 4
Close Local Group Policy Editor and restart Windows to finalize the changes.
Warning
Information in this articles applies to Windows 8.1. It may vary slightly or significantly with other versions.