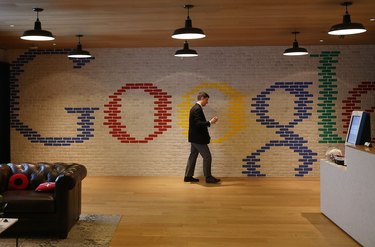 Whether AdBlock or Adblock Plus is interfering with a particular site or you just want to see a site's ads to help support its creator, you can disable the extension temporarily without removing it entirely. In addition to disabling all ad blocking, both utilities support allowing ads through each time you visit a specific site, and always allowing non-intrusive ads, such as text-based ads. The steps to allow ads vary depending on which browser you use, but the features are similar across Firefox, Chrome and Internet Explorer 10 and 11.
Disable Adblock Plus
To stop Adblock Plus from blocking ads without uninstalling the extension, click the "ABP" icon, and then choose "Disable Everywhere" in Firefox or Internet Explorer. In Chrome, right-click the icon, click "Manage Extensions," and then uncheck the "Enabled" box for Adblock Plus. Repeat the same process to re-enable the extension when you want to start blocking ads again. In Firefox and IE, the icon grays out when the extension is disabled. In Chrome, the icon vanishes entirely -- to return to the Extensions page, open the menu, click "More Tools," and then select "Extensions."
Disable on Specific Sites
Rather than turn Adblock on and off manually, use the "Disable on..." option in the ABP menu in Firefox or Internet Explorer to stop the extension from running on all pages of the current website, every time you visit it. Firefox, but not IE, also has the option "Disable on This Page Only." In Chrome, click the "ABP" icon, and then click "Enabled on This Site" to flip the setting to "Disabled on This Site." Repeat the same steps to undo the choice.
Disable Filters or Non-Intrusive Advertising Blocking
The option to "Allow Some Non-Intrusive Advertising" allows through ads that conform to certain rules, such as Google's text ads. To stop Adblock Plus from filtering these ads, click the "ABP" icon, and then choose "Filter Preferences" in Firefox, "Options" in Chrome or "Settings" in Internet Explorer. On the same page in Firefox or Chrome, you can also disable individual filter lists that the extension uses to block ads.
Disable AdBlock on Chrome
For several years, Adblock Plus was not available on Chrome, which allowed a competitor, AdBlock, to become that browser's most popular ad blocker. Chrome's AdBlock is unrelated to the now-defunct Adblock for Firefox that evolved into Adblock Plus.
AdBlock offers many of the same settings as ABP, but its menu items differ slightly. Click AdBlock's stop sign icon to open its menu. "Pause AdBlock" disables the extension across all sites, while "Don't Run on Pages on This Domain" disables the extension for all pages of the current site. Another option is "Don't Run on This Page." To change the filter lists or let through non-intrusive ads, click "Options" to reach the rest of the settings.